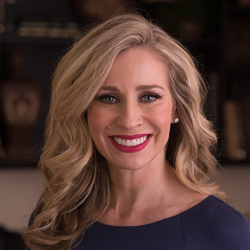 Hometown: Hamlet, North Carolina
Education: B.A. in Political Science, UNC Chapel Hill; Juris Doctor, Campbell University Norman Adrian Wiggins School of Law
Favorite Quote: "To love what you do and feel that it matters, how could anything be more fun?" – Katharine Graham
Why I Do What I Do: Each day I have the opportunity to give of my knowledge, my time, my advocacy and my compassion to help lighten my clients' burdens in a difficult time. I am relentless in representing my clients and do everything in my power to fight for what I believe is right and just. Yet I also fight with heart, because I care for them as individuals. My parents taught me that it is in giving that we receive. When my team and I show our clients that we care about them and give them our support through one of their most difficult times, the comfort and relief we see on their faces is the true reward. When I give everything I have to fight for my clients and they say they will never forget the kindness we have shown them…I am grateful I get to do it again tomorrow.
Maggie practices among an elite class of specialists in Workers' Compensation. She earned Board Certification by the North Carolina State Bar as a Specialist in Workers' Compensation Law. (Attorneys are not permitted to be called "specialists" in any field unless they meet rigorous criteria including additional testing and display a superior understanding of the area in which they are certified.)
After obtaining her law degree, Maggie aspired to own and run her own firm. Her goal was to be a litigator representing hard-working people who face unexpected injuries and need assistance to protect their livelihood, their family and their physical health. Maggie founded Shankle Law Firm, P.A. in 2008, where she has devoted her practice to protecting the rights of injured workers. She finds her passion in guiding people through the difficulties of the legal process and achieving the best possible results for her clients. She has been practicing law in the workers' compensation field since 1999. Maggie also has substantial experience in handling personal injury, social security disability, medical malpractice and catastrophic injury cases.
While Maggie's intent was ultimately to represent Plaintiffs, her first role was at an insurance defense firm, where she practiced for nearly five years. This gave her true insight into dealing with insurance companies and employers and provided an understanding of their tactics and techniques. She saw the inequities and advantages built into the system for the insurers, leaving individuals without the compensation they deserved. Armed with this knowledge and experience, she now delivers the best for her clients, often providing the inside track to positive outcomes.
Having grown up in a family of self-employed business owners, Maggie experienced firsthand what it is like to work in manual labor jobs with high risks for injury. Her parents own and operate a Heating, Air Conditioning and Commercial Refrigeration Company. Her brothers are also entrepreneurs who run family businesses. She learned at an early age how important it is to provide for your family and carries that with her as she represents those who have been wronged.